WE ARE HERE TO HELP
26th March 2020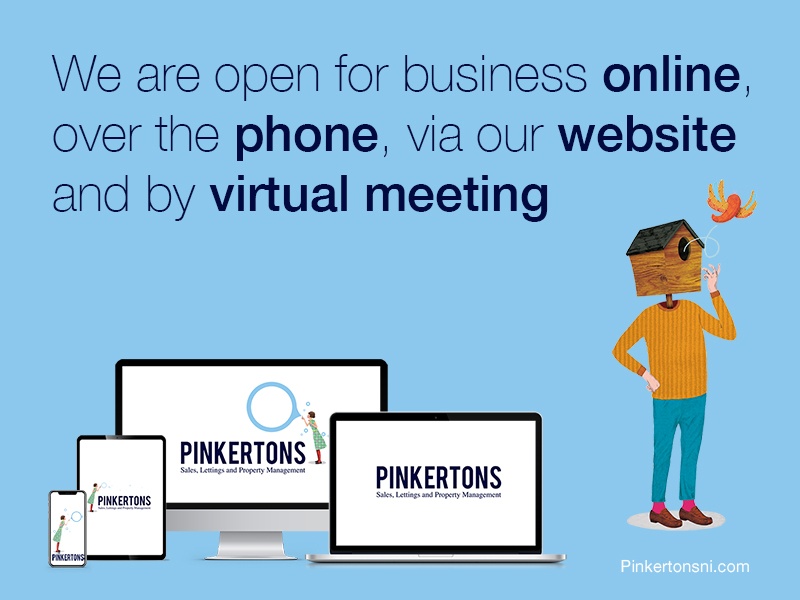 At Pinkertons, the wellbeing and safety of our staff and clients is our top priority which has led to us making the difficult decision to close our offices.
However, we are still here to help and are still very much open for business. Our fantastic staff are working hard remotely to ensure that all of our clients receive the impeccable level of service that we are known for. We are available over the phone, by email or alternatively, you can make contact with us through our website.
We are able to carry out virtual valuations and viewings and we are working hard to develop ways in which we can use technology to provide for our clients during this difficult time. If you need to discuss something with any member of our team, please do not hesitate to get in touch.
Whether you need some advice or are in the middle of a move, we are here to advise, guide and support you in any way that we can. Below are some of the ways in which you can contact us. Please be mindful that whilst we always aim to respond to enquiries as quickly as possible, we may take slightly longer than usual at the moment.
Tenants and Landlords
If you are an existing landlord or tenant and need to speak with someone from our Rentals team, please call 02891 479 393 or email colin.dill@pinkertonsni.com
If you are a private renter and need some information, please visit www.housingadviceni.org/advice-private-tenants/coronovirus
Moving in to a Property
We are aware that many people will be in the middle of a house move and we will of course continue to facilitate this where it is safe and essential to do so. If you need to discuss this further with our Sales Team, please call 02891 479 393 or email erin.johnston@pinkertonsni.com or christina.gass@pinkertonsni.com
Property Viewings
Whilst we are not carrying out viewings in person at the moment, you can find professional photographs of all our listings on our website. We can also provide walk through videos to give you a better look at the property. If you have any further questions about any of our listings or would like some information, please contact our office on 02891 479 393.
Property Valuations
We are not currently carrying out in-person property valuations, however we are providing live property valuations. If you are interested in selling our letting out your property, please do not hesitate to get in touch and we will happily arrange this for you. Equally, you can email our Senior Valuer for more information at peter.morrison@pinkertonsni.com
Finally, we want to take this opportunity to thank our amazing staff for their commitment to their work and for coming together during this time to provide for our clients. We also would like to thank our clients for their understanding and for working with us during these difficult times. Together we will come back stronger than ever and we look forward to welcoming you back through our office doors when it is safe to do so.
Until then, stay safe and get in touch if there is anything we can help with.