TIME TO SIGN!
6th November 2019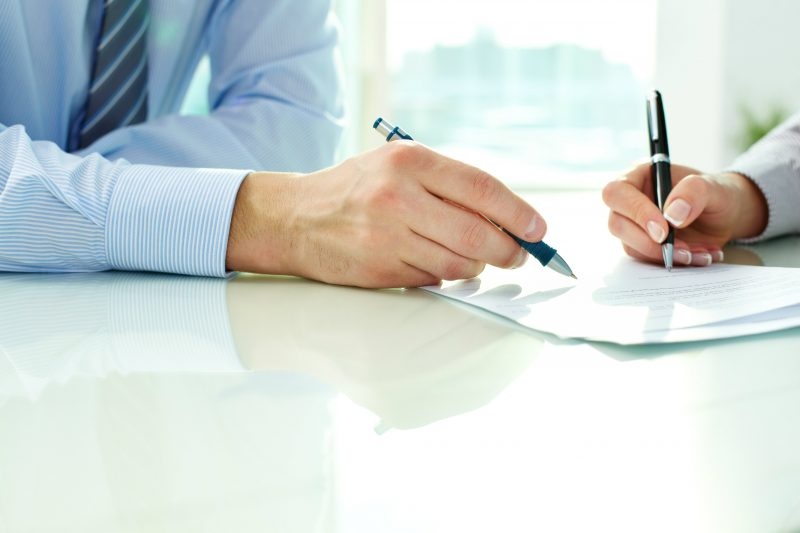 Congratulations! Now that you have accepted an offer or had your offer accepted on a property, you will be eager to find out your move in date so that you can start to get things organised. Right now, you are at the very beginning of the process and so you will find that there will be no exact date set just yet. With everything going to plan, the average sale takes around 8-12 weeks. Our goal is to ensure that your move is as smooth as possible and we've come up with a quick guide to give you an idea of the process ahead of you!
Week 1 – 2
We will issue a memorandum of sale once you have instructed your solicitor to act on your behalf and we know their details. Although there will be completion date on it, it is only an estimate to give all parties a timeframe to aim for. A variety of things can crop up during the process that could push it back. An exact date will be confirmed later.
If you are a vendor, your solicitor will need your instruction to request Title Deeds. These can come in as quickly as 2 weeks, but sometimes it could take 6-8 weeks at the very most. It all depends on how quick and efficient your lender is! In order to save time on this part of the process, you can instruct your solicitor to request them when putting the property to market.
If you are a buyer, it is best for you to speak to your financial advisor as soon as you can and begin your mortgage application. Make sure you are aware of any restrictions that the lender may have.
Pinkertons work very closely with PropertyPal Mortgages, Northern Ireland's top rated Mortgage Advisors, who can provide expert advice on what mortgages are available to you, as well as walking you through the process from application to completion. Have a look at the mortgages on offer to you at https://www.pinkertonsni.com/mortgage-services-bangor-north-down-comber-and-ards
Week 2 – 6
This stage of the process can seem like there is not a lot happening, but rest assured the solicitors are working away in the background gathering documentation and requesting certificates from the relevant parties. Pinkertons will keep in touch with all solicitors that are involved to get updates on the sale progression and will in turn give you updates and give advice where needed. Our best advice is to keep in touch with your solicitor and be quick with your responses to anything they ask of you as this keeps everything moving at a good, reasonable pace!
If you are a vendor, the solicitor will ask for your instruction to apply for property certificates and searches once they have received the Title Deeds. The contract will be drafted and forwarded to the purchaser's solicitor, along with the Title. Most of the searches can be gathered within hours, and at the very most, a matter of days. However, one certificate will take around 3 weeks to arrive as it has to go to a central administration team in the council who then send out information requests to relevant departments and collate responses to complete the certificate. Your solicitor may ask you to complete some general forms such as a fixtures and fittings list. They will also advise if any paperwork needs supplied or arranged, such as gas safety certificates or building control. At this point, you should let your solicitor know of any changes that were made to your home during the time you owned it as it will speed up the conveyancing process and the buyer's mortgage lender may request this kind of information before approving the loan. This could be installation of gas, extensions or damp proofing.
If you are a buyer, you will be working on your mortgage application with the guidance of your financial advisor and arranging any surveys that are required to be carried out at the property.
Week 6 – 10
Once searches and certificates are received, things start to speed up. The solicitors will be reviewing documents and raising any queries. We will stay in touch with solicitors to provide and receive updates and keep the process moving. When surveys are completed and progress is good on both sides, there may be an approximate date set for completion (however, this will be an estimate). Until solicitor's have all that they need, it is not confirmed.
If you are a vendor, your solicitor may ask for some answers to questions that the purchasers have raised. These could be anything from requesting further certificates or questions regarding an existing extension. Try your best to respond to these queries and deal with them as quickly as possible as it will be a benefit to both you and the buyer.
If you are a buyer, you should have your survey back and you may request or need further surveys such as a Homebuyer's Report. If anything is raised on survey that concerns you, speak to your estate agent and solicitor for advice on negotiating a resolution that is suitable for both parties.
Week 10 – 12
On the premise that all queries have been answered and all solicitors are happy with the documentation, parties will be asked to sign contracts, set exact completion dates and request funds from the lender. This is all subject to change depending on a number of factors. We are very much aware that things can crop up that affect completion dates – here at Pinkertons, we wish to ensure that this process is suitable to YOUR needs. If you keep us up to date with anything that may affect your completion, we will make sure we negotiate to make things as smooth as possible.