PROPERTYMARK'S SUPPORT PACKAGE FOR HOUSING MARKET
6th May 2020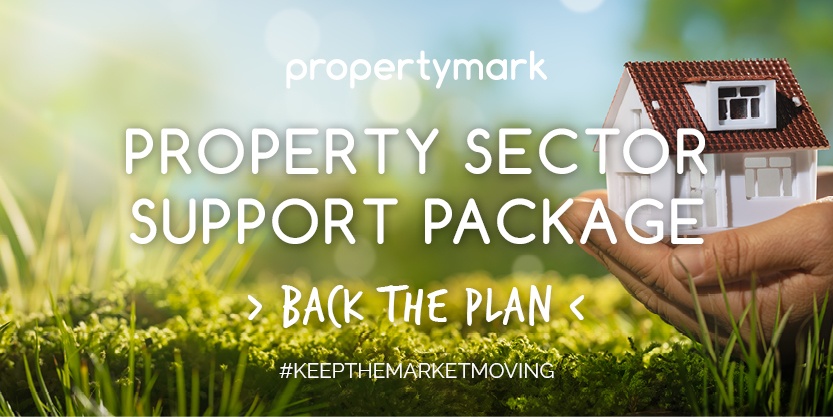 Property Sector Support Package
Homeownership provides an increased sense of stability and security to people's lives and the local communities in which they live. Property values are fundamental to homeowner confidence in the economy and it is very uncertain that consumer confidence in the coming months will be sufficient for homeowners to put residential property on the market.
Insufficient supply is self-propagating because sellers are not motivated by available properties. Furthermore, borrowers are finding it harder to get a mortgage as lenders withdraw offers and increase rates in response to the coronavirus outbreak. That is why we are setting out a plan to give consumers and the property sector the boost it needs.
Propertymark's Property Sector Support Package includes introducing measures for controlled viewings and conveyancing increased use of the Propertymark Sales Protocol Toolkit, cash incentives and a holiday on property tax for residential transactions.
Background
More than one million homes are bought and sold every year in the UK – that means at least a million buyers, each working with professional support from estate agents, solicitors, conveyancers and mortgage lenders.
Real estate activities - commercial and residential lettings and sales, as well as management, support 240,000 jobs and add £13 billion of value added to the United Kingdom 1
Average cost of moving - the estimated average cost of moving in the UK is around £8,885, which includes costs of valuing and surveys, legal fees, building insurance, estate agent fees, mortgage costs and broker fees. Other costs can include removal company or temporary 2
COVID-19
Regardless of Covid-19, many families still want a bigger home, empty nesters still want to downsize, and first-home buyers still want to make the most of record-low interest rates. Most sales underway when the Coronavirus pandemic struck are holding together but, in many cases, this is due to agents putting in significant additional work to keep all parties informed and confident.
Portal activity - figures from the property portal Rightmove show that there were 65,531 new listings between 8 March 2020 and 11 April 2020 (the period straddling the date that the lockdown came into effect).3
Impact on DIY and removals - due to the Coronavirus outbreak, homeowners are expected to spend £7.9 billion less on DIY and renovations this year, while removals companies will lose out on around £395 million.4
Visiting property is a crucial step when purchasing a new home. With our support package and practical guidelines in place for the property sector to operate under the Government can make it work for buyers and sellers.
What is Propertymark calling for?
Their package was designed in consultation with representatives of the property sector. It includes:
Get market ready with the Propertymark Sales Protocol Toolkit
The Sales Protocol Toolkit5 reduces the need for vendors to complete duplicate information helping to increase the supply of
The Property Information Questionnaire contained within the Toolkit will allow vendors to get their property market ready – now is the ideal time to do
Estate agents can still list homes and there is no direct cost to putting a vendor's property on the market.
Introduce controlled viewings and conveyancing
The Government must look to the measures that are taking place in the United States of America and New Zealand that are allowing controlled viewings to take place. Measures could include:
Do not schedule back to back viewings and make sure the vendors are
Do not conduct any viewings where anyone living in the property is exhibiting COVID-19 symptoms, however
Buyers will have to wait in their cars until they are told they can
Viewings must be contactless, make sure all lights are on, cupboards and doors are open – reduce any need to touch anything in the property.
Only two people from buyer's party can attend a viewing at any one time
Cash incentive loan of £1,500 to home buyers
When people buy a property, they will be given on completion, a cash payment equivalent of an interest free loan to support their move which they must repay when they sell their
It will be registered as a charge on the home you
The money is transferred to the buyer when they register the Title of the Property.
A six-month holiday on property tax for residential transactions
Moving to a new home has enormous knock-on benefits for the wider
Support for the housing market will be essential to restarting the economy when the social distancing measures are lifted.
A holiday on property tax would increase consumer confidence and encourage both upsizing and downsizing.
3 Coronavirus outbreak will halt 520000 uk house sales in 2020