PINKERTONS ESTATE AGENTS EXPANDS SERVICE BY INTRODUCING FIXED FEE ONLINE ONLY PROPERTY SALES
6th May 2020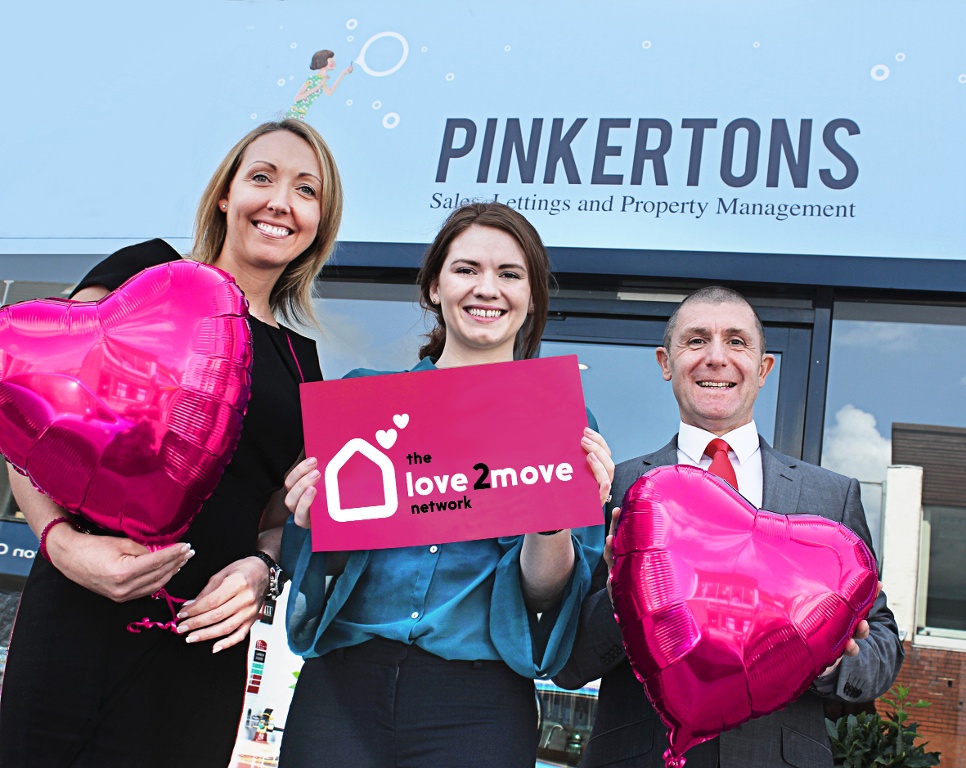 Despite a freeze on the market, award winning Pinkertons Estate Agents has been busy launching the Love2Move Online Network into Northern Ireland. Operating out of two branches, Pinkertons Estate Agents has grown to become one of the most recognisable estate agencies, with 15 years' experience in selling, letting and managing properties.
By joining the Love2Move Network, Pinkertons has now become a fully hybrid estate agency. 'Pinkertons with Love2Move' offers clients a fixed fee online only service costing just £895 and it sits alongside and compliments their existing methods of selling properties; full-service traditional estate agency and auctions.
Victoria Pinkerton, Managing Director of Pinkertons Estate Agents, said: "We have always aimed to do things differently at Pinkertons Estate Agents and being part of the Love2Move Network clearly demonstrates that approach. Online only transactions are increasingly becoming more popular to certain sectors of the property market, and by introducing a fixed fee online only option allows us meet the needs of those segments."
Pinkertons with Love2Move is aimed at sellers who want greater control and have the time to manage the selling process, but, and perhaps more importantly, want to ensure their home is valued correctly by an experienced local high street agent rather than by someone who isn't familiar with the local market and may provide inaccurate, lower property valuations.
"Pinkertons with Love2Move provides clients comfort knowing that their property value is verified by an experienced and local high street estate agent who has an established track record and can generate maximum return and a speedy sale" Ms Pinkerton continued.
Over the past number of years there have been sellers caught out by listing with online only agents. After months of being on the market, with no agent to assist with generating interest and to obtain advice from, sellers can feel trapped by the possibility of being left out of pocket. This is where Pinkertons with Love2Move is completely different. Should a client find the online only option hasn't worked for them, for whatever reason, they can upgrade to Pinkertons Traditional Full-Service Estate Agency offering with the money they have already paid discounted off their final fee.
Peter Morrison, Associate and Senior Valuer at Pinkertons commented: "Pinkertons with Love2Move protects the choice a seller makes with a money paid guarantee. We allow sellers to try the online only option and if they decide at a later date it's not for them, we will upgrade the sale to our full traditional estate agency package with the seller only paying the difference between the two selling options. This is a first for online only property sales."
Georgina Cox, CEO of the Love2Move network said: "Pinkertons really impressed us at The Negotiator Awards in London at the end of last year and we wanted them to be a part of the Love2Move Network. Welcoming Pinkertons Estate Agents into our 46 strong network, during these challenging times, is a true embodiment of a forward-thinking agent who recognises that providing clients with a choice of selling options, including fixed price online sales with different payment terms, can create more sustainable business".
Pinkertons Estate Agents is the only agent in the Bangor, Newtownards, Comber and Ards Peninsula areas that offer this fully flexible service. If you are interested in knowing more about Pinkertons with Love2Move please contact Pinkertons by email on info@pinkertonsni.com or by telephone (028) 91479393.